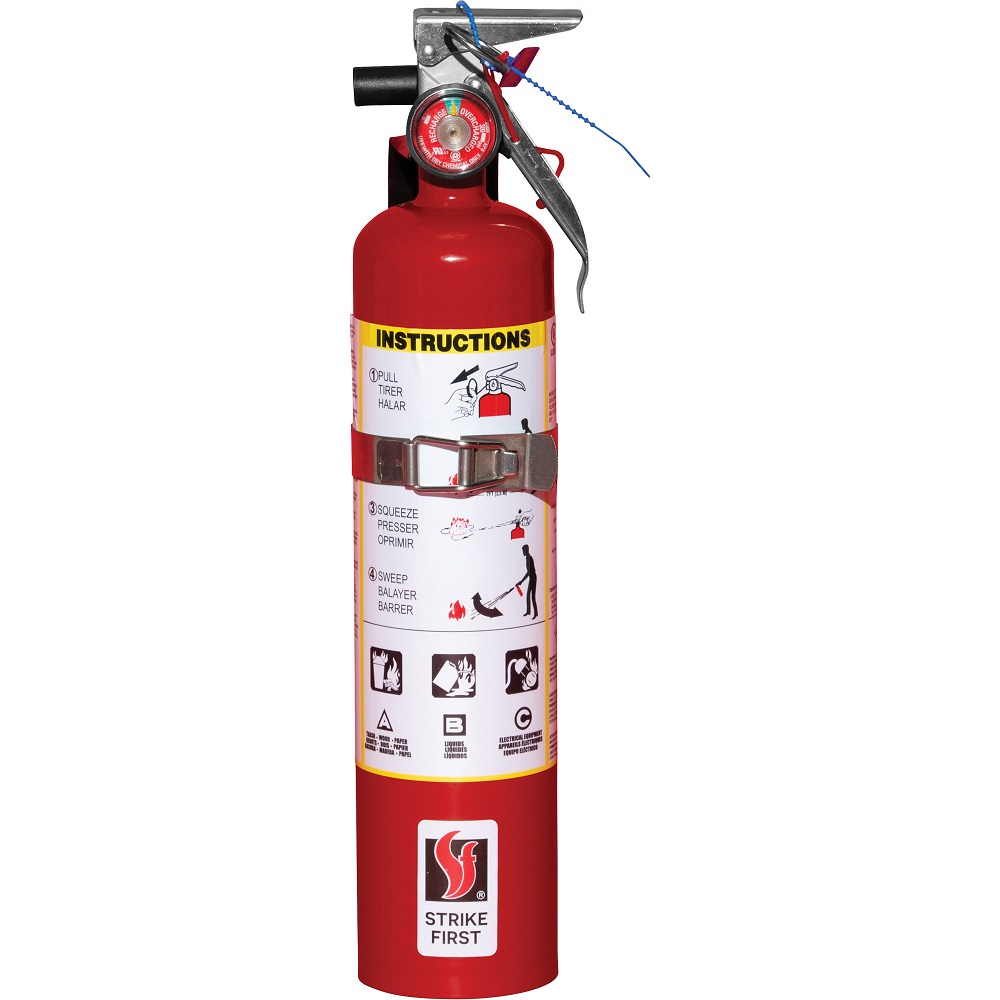 Class ABC Fire Extinguishers
Multi-Purpose ABC Dry Chemical fire extinguishers are the most common extinguishers on the market.
These completely rechargeable, ULC listed ABC rated fire extinguishers contain monoammonium phosphate powder to extinguish flames.
Class A fires: Combustible materials including paper and wood.
Class B fires: Burning liquids, solvents, and gases.
Class C fires: Fires involving electrical equipment.
Specifications:
Reinforced, full grip stainless-steel handles for ease of operation.
Steel cylinder complete with protective skirt. Waterproof stainless-steel gauge.
Oversized stainless-steel pull pin with retaining strap for easier and faster activation.
Meeting / exceeding ANSI/UL 299 and 711 or ULC S504 and S508.
6-year warranty.
ABC Fire Extinguishers
| SKU | Capacity | UL Rating | Diameter | Bracket Type | Add to cart |
| --- | --- | --- | --- | --- | --- |
| 43345 | 2.5 lbs. | 1A:10BC | 3.125″ (8 cm) | Vehicle | |
| 43346 | 5 lbs. | 3A:10BC | 4.25″ (11 cm) | Wall | |
| 43347 | 5 lbs. | 3A:10BC | 4.25″ (11 cm) | Vehicle/Wall | |
| 43348 | 5 lbs. | 3A:40BC | 4.25″ (11 cm) | Vehicle/Wall | |
| 43349 | 10 lbs. | 6A:80BC | 5.125″ (13 cm) | Wall | |
| 43350 | 20 lbs. | 10A:120BC | 7.125″ (18 cm) | Wall | |
| 43351 | 30 lbs. | 10A:120BC | 7.125″ (18 cm) | Wall | |
* All images displayed are for illustrative purposes only and may not be an exact representation of the product