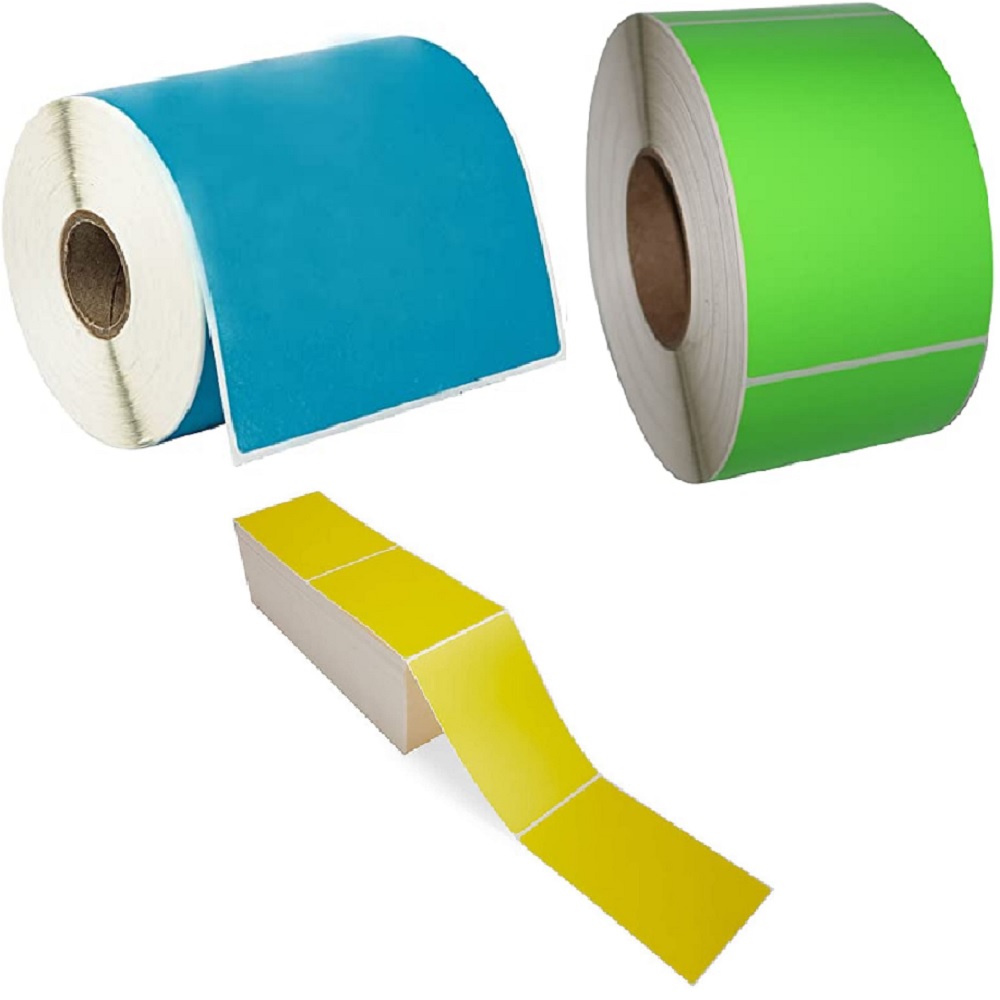 Direct Thermal Barcode Labels - Colours
NO RIBBONS REQUIRED
Our barcode labels are Avery-Fasson® Trans-Therm® – an ultra-smooth coated facestock – provides premium barcode printing for high- and medium-speed printers. Adhesive is Fasson® S2550 – excellent permanent adhesion to corrugated cardboard and superior adhesion to plastic.
FSC® certified.
Thermal Labels are the preferred labels for bar coding, labeling, shipping and longer-term applications. They won't smudge when printed on, great for heavy duty use, versatile and long-lasting.
Desktop printers: Use 1" core labels or fanfold labels.
Industrial printers: Use 3" core labels or fanfold labels.
1" Core Labels (For Desktop Printers)
| SKU | Colour | Size (W x H) | Labels/Roll | Rolls/Case | Add to cart |
| --- | --- | --- | --- | --- | --- |
| 14108 | Orange | 4" x 6" | 275 | 16 | |
3" Core Labels (For Industrial Printers)
| SKU | Colour | Size (W x H) | Labels/Roll | Rolls/Case | Add to cart |
| --- | --- | --- | --- | --- | --- |
| 14092 | Yellow | 4" x 2" | 2,800 | 4 | |
Fanfolded Labels - Coloured
| SKU | Colour | Size (W x H) | Labels/Stack | Stacks/Case | Add to cart |
| --- | --- | --- | --- | --- | --- |
| 14173 | Blue | 4" x 6" | 1,000 | 6 | |
| 14183 | Green | 4" x 6" | 1,000 | 6 | |
| 14192 | Pink | 4" x 6" | 1,000 | 6 | |
| 14195 | Purple | 4" x 6" | 1,000 | 6 | |
| 14200 | Red | 4" x 6" | 1,000 | 6 | |
| 14205 | Yellow | 4" x 6" | 1,000 | 6 | |
* All images displayed are for illustrative purposes only and may not be an exact representation of the product