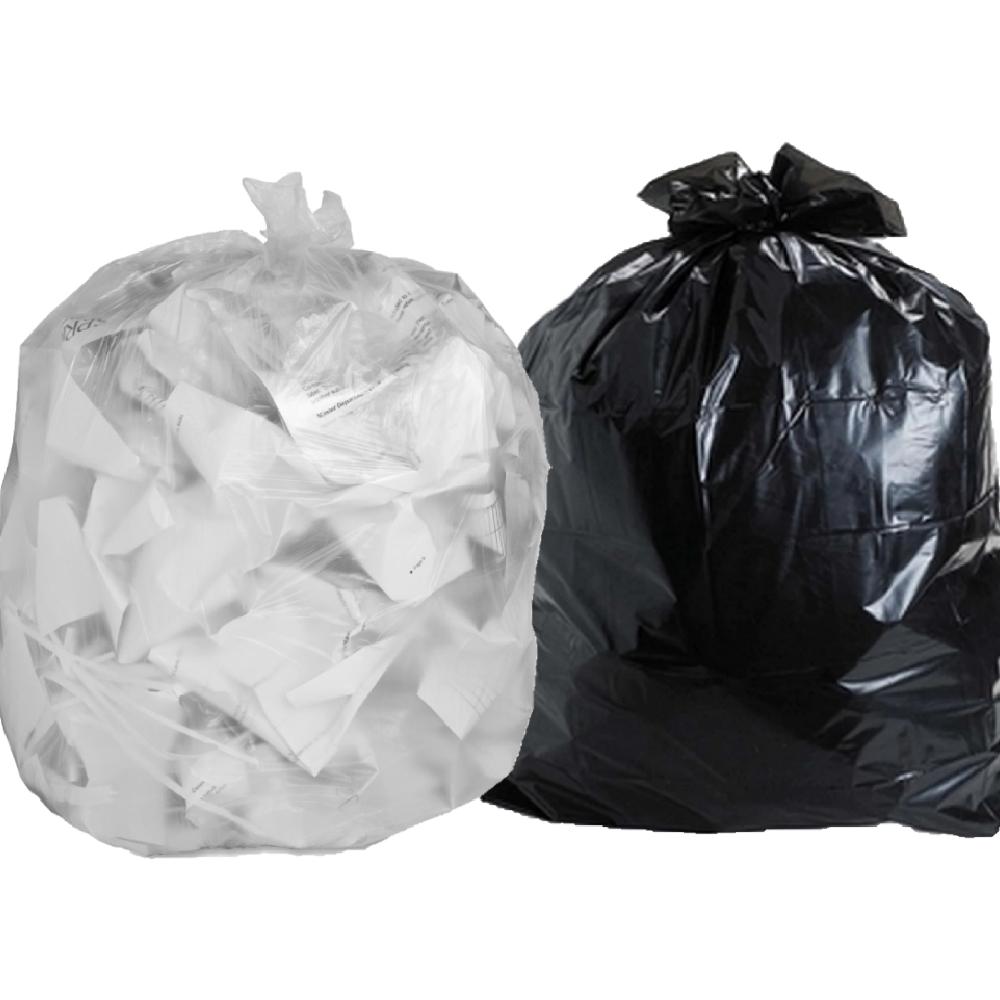 Garbage Bags
These quality garbage bags offer a superior product specifically designed to meet the needs of industry.
All bags are UL – Eco Logo Certified.
Made using 100% recycled LLDPE resins with a minimum of 10% post consumer materials.
All bags are 100% recyclable.
High quality, extra tough garbage bags. Available in a wide variety of sizes.
Come in a self-dispensing cartons.
Typical size uses:
22" x 24" – Desk/Office
26″ x 36″ – Breakroom/Cafeteria
30″ x 38″ – Breakroom/Cafeteria
35" x 50" – Warehouse
42" x 48" – Warehouse
Black Garbage Bags
| SKU | Size (W x H) | Capacity | Strength | Mil | Quantity/Case | Add to cart |
| --- | --- | --- | --- | --- | --- | --- |
| 31003 | 20" x 22" | 5-7 Gallon | Regular | 0.50 | 500 | |
| 31006ECO | 22" x 24" | 5-7 Gallon | Regular | 0.80 | 500 | |
| 31007ECO | 26" x 36" | 15-20 Gallon | Regular | 0.85 | 250 | |
| 31008ECO | 26" x 36" | 15-20 Gallon | Strong | 1.0 | 200 | |
| 31010 | 30" x 38" | 20-30 Gallon | Regular | 0.65 | 200 | |
| 31011 | 30" x 38" | 20-30 Gallon | Strong | 0.80 | 150 | |
| 31012ECO | 30" x 38" | 20-30 Gallon | Extra Strong | 1.15 | 150 | |
| 31014ECO | 35" x 50" | 40-45 Gallon | Strong | 1.05 | 125 | |
| 31015ECO | 35" x 50" | 40-45 Gallon | Extra Strong | 1.2 | 100 | |
| 31016 | 35" x 50" | 40-45 Gallon | Extra Extra Strong | 1.75 | 100 | |
| 31018ECO | 42" x 48" | 50-55 Gallon | Strong | 1.05 | 100 | |
| 31019ECO | 42" x 48" | 50-55 Gallon | Extra Strong | 1.2 | 100 | |
Clear Garbage Bags
| SKU | Size (W x H) | Capacity | Strength | Mil | Quantity/Case | Add to cart |
| --- | --- | --- | --- | --- | --- | --- |
| 31043ECO | 22" x 24" | 5-7 Gallon | Regular | 0.80 | 500 | |
| 31044ECO | 26" x 36" | 15-20 Gallon | Regular | 0.85 | 250 | |
| 31045ECO | 26" x 36" | 15-20 Gallon | Strong | 1.0 | 200 | |
| 31046ECO | 26" x 36" | 15-20 Gallon | Extra Strong | 1.15 | 125 | |
| 31047ECO | 30" x 38" | 20-30 Gallon | Regular | 0.85 | 200 | |
| 31048ECO | 30" x 38" | 20-30 Gallon | Strong | 1.0 | 200 | |
| 31049ECO | 30" x 38" | 20-30 Gallon | Extra Strong | 1.15 | 125 | |
| 31051ECO | 35" x 50" | 40-45 Gallon | Strong | 1.05 | 125 | |
| 31052ECO | 35" x 50" | 40-45 Gallon | Extra Strong | 1.2 | 100 | |
| 31054ECO | 42" x 48" | 50-55 Gallon | Strong | 1.05 | 100 | |
| 31055ECO | 42" x 48" | 50-55 Gallon | Extra Strong | 1.2 | 100 | |
* All images displayed are for illustrative purposes only and may not be an exact representation of the product