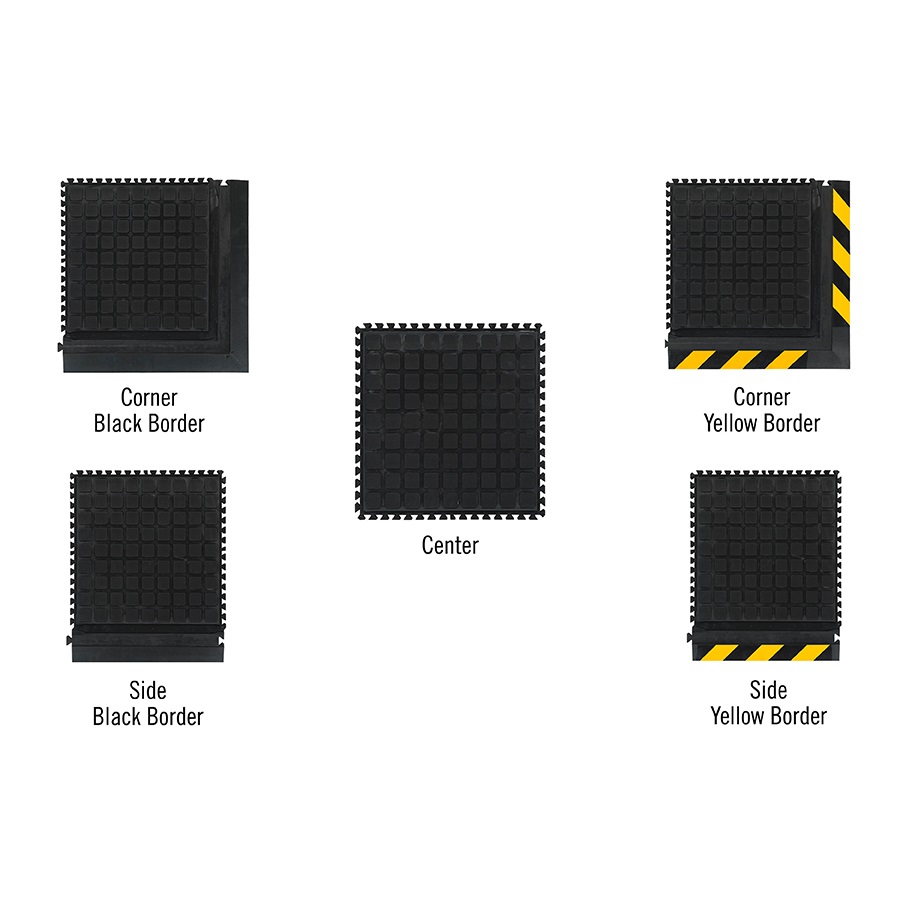 Hog Heaven III™ Modular Tiles
Hog Heaven III™ Comfort mats and tiles offer outstanding anti-fatigue qualities and perform in various environments including those with oil, grease, and chemicals. Available is modular tiles, linkable mats, and workstation mats for any configuration.
Comfortable – High-density, closed-cell nitrile rubber cushion provides excellent anti-fatigue qualities to reduce the pain and fatigue associated with standing for long periods of time.
Safe – Beveled edges provide a safe transition from floor to mat and will not crack or curl.
Durable – Nitrile-blended cushion provides years of useful life and is molded, not glued, to the nitrile rubber surface so it will not separate.
Versatile – Welding safe; grease/oil resistant*; chemical resistant; ESD rating of electrically conductive
Mats and tiles are 3/4" thick and available with black or OSHA-approved yellow striped border.
Linkable mats can be linked together to create long runs, tiles can be linked to create custom configurations, and workstation mats are ideal for standing areas.
*The 100% nitrile rubber surface of Hog Heaven III Comfort is grease/oil proof while the nitrile-blended cushion is grease/oil resistant.
© Copyright 2021 M+A Matting
Hog Heaven® III Modular Tiles
| SKU | Size (W x L) | Colour | Thickness | Add to cart |
| --- | --- | --- | --- | --- |
| 32020 | 18′ x 18′ | Black | 3/4″ | |
| 32021 | 18′ x 18′ | Black | 3/4″ | |
| 32022 | 18′ x 18′ | Black | 3/4″ | |
| 32023 | 18′ x 18′ | Black w/Yellow | 3/4″ | |
| 32024 | 18′ x 18′ | Black w/Yellow | 3/4″ | |
| 32025 | 18′ x 18′ | Black w/Yellow | 3/4″ | |
| 32026 | 36″ x 36″ | Black | 3/4″ | |
| 32027 | 36″ x 36″ | Black | 3/4″ | |
| 32028 | 36″ x 36″ | Black | 3/4″ | |
| 32029 | 36″ x 36″ | Black w/Yellow | 3/4″ | |
| 32030 | 36″ x 36″ | Black w/Yellow | 3/4″ | |
| 32031 | 36″ x 36″ | Black w/Yellow | 3/4″ | |
* All images displayed are for illustrative purposes only and may not be an exact representation of the product