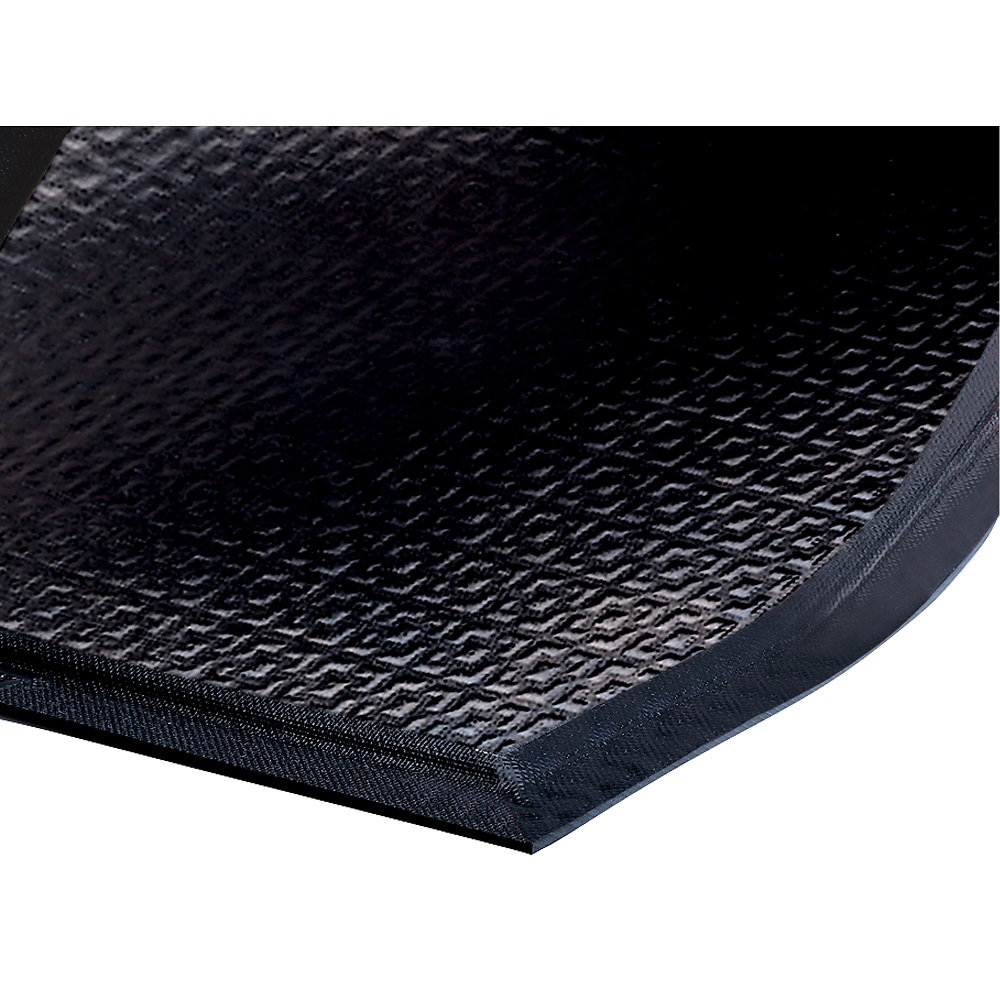 Happy Feet® Grip & Textured Mats
Happy Feet is a heavy-duty anti-fatigue mat that features a dense foam cushion encapsulated in nitrile rubber, making it suitable for both wet and dry environments.
Comfortable – 1/2″ dense foam cushion and nitrile rubber surface provide excellent anti-fatigue qualities
Safe – Certified high-traction by the National Floor Safety Institute (NFSI)
Durable – Nitrile rubber surface is penetration proof; borders will not crack or curl
Versatile – Welding safe; grease/oil proof; chemical resistant; ESD rating of electrically conductive
Available in two surface types: Textured Surface for dry/damp environments or Grip Surface for wet environments where additional traction is needed
Available with solid black or with OSHA-approved yellow striped borders
Please note, mat sizes are approximate as rubber shrinks and expands in conjunction with temperature and time. Tolerable manufacturing size variance is 3-5%.
© Copyright 2021 M+A Matting
Happy Feet® Textured Mat #465
| SKU | Size (W x L) | Colour | Thickness | Add to cart |
| --- | --- | --- | --- | --- |
| 32005 | 2′ x 3′ | Black | 1/2″ | |
| 32006 | 3′ x 5′ | Black | 1/2″ | |
Happy Feet® Textured Mat #466
| SKU | Size (W x L) | Colour | Thickness | Add to cart |
| --- | --- | --- | --- | --- |
| 32007 | 2' x 3' | Black/Yellow | 1/2″ | |
| 32008 | 3' x 5' | Black/Yellow | 1/2" | |
Happy Feet® Grip Mat #475
| SKU | Size (W x L) | Colour | Thickness | Add to cart |
| --- | --- | --- | --- | --- |
| 32009 | 2′ x 3′ | Black | 1/2″ | |
| 32010 | 3′ x 5′ | Black | 1/2″ | |
Happy Feet® Grip Mat #476
| SKU | Size (W x L) | Colour | Thickness | Add to cart |
| --- | --- | --- | --- | --- |
| 32011 | 2′ x 3′ | Black/Yellow | 1/2″ | |
| 32012 | 3′ x 5′ | Black/Yellow | 1/2″ | |
* All images displayed are for illustrative purposes only and may not be an exact representation of the product